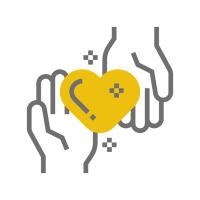 To do what one believes and what one sees as meaningful is great happiness and commitment at the same time. We believe in barefu, DOTS and bare feet. 
The enthusiasm for barefoot and the desire to research scientifically has shown us the importance of CORRECTLY walking barefoot in everyday life. We believe that DOTS domed discs are not just a design accessory, but mainly a product that will improve the state and condition of our customers' feet. However, we also realise that spreading awareness about the importance of going barefoot and walking barefoot is a long-distance journey. That's why DOTS are design, pleasant to the touch / tread, full of our enthusiasm and functional – they stimulate your feet without you having to spend extra time or effort on exercise.
DOTS help you – our customers – to move your feet. However, we have decided that we want to share our business success with those who need it.
Therefore, for each DOTS package sold, part of our profit goes to charity – either as a direct financial donation or as a package of our DOTS to those who will benefit from it but they couldn't afford it.
So far, we have financially supported Alex and Amelia who both suffer from SMA syndrome and Society Úsmev ako dar (Smile as a Gift).
Thank you for supporting DOTS to support those who need it!
For proper development of the legs
DOTS are part of several nursery centres or kindergartens, because lots of legs run there and stimulation is important for them.
However, we realise that for some kindergartens or nursery centres, purchasing DOTS is a big item. Therefore, we decided to provide a discount on the purchase of DOTS to facilities designated for children. We believe that each facility is in a slightly different situation and therefore we did not choose a single discount for everyone.
However, if your kindergarten or nursery centre is interested in DOTS, write to us at hello@barefu.com and we will definitely come up with something together. 
Explore more interesting info and clic on the individual pictograms