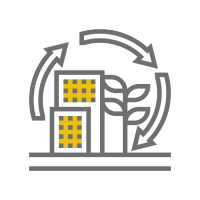 DOTS are made of hardwood. Why? Because wood is a renewable and degradable material and in combination with its clean shape it is both timeless and interesting. Wood handles everyday loads and signs of use do not degrade it, but give it an interesting patina. At the same time, it is warm, pleasant to the touch and, thanks to various grains of wood, also beautiful. DOTS domed discs are made of ash, but in the special offers you can also find oak, walnut, accacia, maple or MIX of the woods. Among the special sets are also nature's works of art, when the tree rings form real originals sometimes.
In order for the wood to retain its original properties, we treat DOTS with oil, which does not change the original color of wood and leaves the pores open. We use a mixture of natural and vegetable oils and waxes, which is safe for people, animals and children's toys according to the European standard EN: 71.3 and is resistant to saliva and sweat according to the German industry standard DIN53160.
DOTS are Slovak through and through.
Designed and developed in Slovakia
Tested in Slovak households
Made by a skilful Slovak woodcutter
Made from Slovak wood
Why don't we make DOTS in another country for a lower price? Because our values include the locality and support of skilled Slovak craftsmen. In addition, we go to the workshop to pick up DOTS on a bicycle, which eliminates the carbon footprint from transport 🙂
DOTS offer two kinds of packaging:
DOTS active are packaged in an original bag made of unbleached canvas, which we designed for you. (Of course, we source the materials for production and sewing locally here in Slovakia.) The barefu bag has an original closure with a DOT – so that you can activate and move your hands with it at any time (ATTENTION: it is highly addictive). Of course, the bag can be used multiple times and is an ideal form of packaging if you want to give DOTS as a present. In addition to instructions for use and replacement stickers, the package also includes a brochure on walking barefoot and stimulating surfaces.
The packaging for DOTS active TUBUS is a more economical version, where the DOTS are packed in a paper tube. Spare stickers and instructions for use are included in the package but the brochure is distributed as an ebook.
Explore more interesting info and clic on the individual pictograms