Meaningful and active home
DISCOVER the uniqueness of DOTS
Barefu products are the ideal GIFT for your feet, active life and a stylish home that motivates you to move!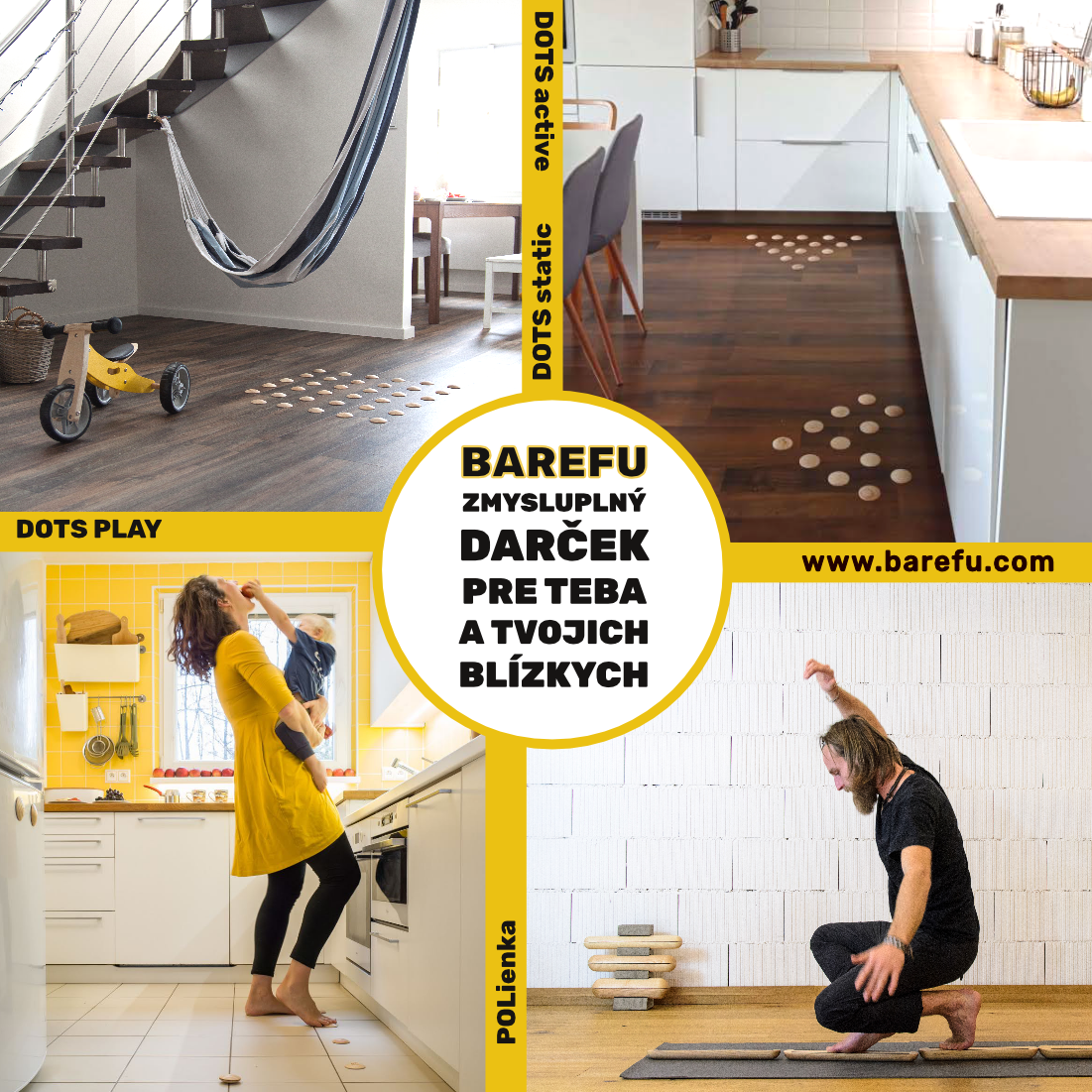 And since it's Christmas,
we'll add a gift for you 
to your order ->
Because AN ACTIVE AND NEANINGFUL ENVIRONMENT stimulates the BODY and THE MIND and contributes to a HEALTHIER and HAPPIER LIFE.
With DESIGN – one of the main values of a barefu is the interconnection of art and function. Each product brings a piece of art to the home, which will stylishly complement the interior, but at the same time provide a functional tool for moving your body and life.
ECOLOGICALLY – our products are produced locally – by skilled Slovak masters, from Slovak wood, in recycled packaging, but above all they are really high quality and therefore will last you long.
PROFESSIONALLY – the barefu is a continuation of research in the field of interior design. We draw information on barefoot walking from scientific articles and research. We regularly share barefoot knowledge with the world and with you.
Already tried DOTS and write about it:
As an interior designer, I especially appreciate their appearance
We've had it for a while. As an interior designer, I especially appreciate their appearance. They will make the floor special and playful. As I walk on them, a smile appears on my face. And most of all, I brag to everyone, what a cool thing we have at home and from what great people! Even within Airbnb we present ourselves as a barefoot interior and I think it's a nice plus among the competition 🙂

Thank you barefu!
We've had barefu at home for a few months now. We placed the DOTS under a thin rug in the kitchen, in the most used place between the sink and the kitchen island. We are extremely satisfied. Thanks to the combination of the barefu DOTS with a softer carpet, my heels stopped hurting completely during a longer standing in the kitchen. Thank you barefu!

barefu DOTS are very popular
In our mother center Mamina in BB, barefu DOTS are very popular and children enjoy them. Some won't even leave until they step on all of them 🙂

Barefu DOTS are just great!
I wanted to try and buy them for a long time, and finally I got to it and I don't regret it! The daughter placed some of them in the most frequently used place in front of her toy kitchen, where she spends a lot of time, so she uses them daily. The first day she was curious, deliberately going to them and rehearsing them, dancing and jumping on them, but now she doesn't even register that she is standing on something "different". We placed another part of the DOTS in the hallway, so that we adults also have the opportunity to massage and train our feet. After a few days, one forgets that he has something like this and walks through it without thinking. I recommend for our family!
I definitely recommend !!! =)
I've been looking at the barefu DOTS for a while now, but it wasn't until last week that I finally bought them. And I don't regret! We sticked the barefu DOTS to the corridor, to the place where all our paths meet. Whether we go from the hallway to the kitchen or room, from the room to the kitchen or vice versa, we always have to cross this place. The "correct" layout and gluing of individual DOTS was a quite a task = D. For about half an hour I walked back and forth and tossed the individual DOTS before I came up with a layout so that it was as beneficial as possible, but also so that it looked aesthetically pleasing =). The daughter helped and I was able to adjust the distances between the individual barefu DOTS. I was afraid of maintenance, but completely unnecessarily. It's easy to run over with a vacuum cleaner, sweep …. Everything without problems. Oh, stepping on them is real well-being, the best massage and I don't need anyone for that. The daughter also likes to stomp on them. The man is still going around = D … But I go there to purposefully stamp and massage my feet = D …. I definitely recommend !!! =) I would definitely use another set. Only the purchase price is high for us …. So maybe later.

Walking on them is very pleasant and I definitely recommend it
We found ourselves in the winter time, the sun is setting early. The weather is not so bad, but it currently attracts few people to hang out on uneven surfaces for the whole day and really only rarely barefoot. So it's time to raise the home floors to a higher level. We stuck barefu DOTS. Concerns also preceded it. Seriously! What will it look like, will it match? Will it really be possible to vacuum through it? And won't the door get stuck over the protrusions? All fears vanished. But be sure to try it with that door before gluing! First we tested the place and position where we would stick the DOTS and then we did it! We have chosen the entrance passage part of the children's room, we go here many times during the day, as we are quite often in the movement between this room and the adjoining study room. At the same time, it is a place in front of the closet, so for example, storing clean clothes has once again become a reflexology-massage experience for me, and I prefer to bring things ten times with fewer pieces than everything at once ???! So far, we have only disturbed the flat surface in the room with foam puzzles with selected patterns. Walking on them is very pleasant and I definitely recommend it, but wooden hard and at the same time very smooth and just big bumps from the barefu are a much more intense experience. For children, conscious walking barefoot has simply become a massage. They call it a massage and never otherwise. In the summer in the garden on the grass, on the stones – massage. And this is the same for them, just a massage. Take off your socks and massage yourself. Of course, we walk on the barefu bumps/tactiles/domes/tenji blocks even without the conscious stopping to have a massage, and then it is as pleasant as the feet signal the obstacles into the brain and waking up from that boring floor lethargy.

I was surprised by the great durability of barefu DOTS
I was surprised by the great durability of the barefu DOTS, in our home they are constantly tested with pieces and leftovers of food from children, as they are located near the kitchen – the most used room in the apartment. Despite their constant cleaning, they still retain all their original properties. In the future, I would also appreciate other products, such as other DOTS shapes – I had the opportunity to try a prototype that was larger in size and suited me more in terms of feeling the uneven surface.
I can say that I am more than excited
When I first discovered barefu via Sestrice, I was thrilled with their design and I was looking forward to their functionality, and today I can say that I am more than excited. We keep fingers crossed for you, you do it perfectly
everyone likes it and walks on them
I bought barefu DOTS because it was very pleasant to walk on them and I wanted to give it as a gift, but in the end they stayed with us and when my legs are tired, I feel much better when I walk through them. And in the few months we have them, we all walk naturally on them. And the little one learned to walk carefully on them (he is 1 year old). It's great he discovers how to walk at home also on different surfaces :). It's just annoying to explain to each visitor what we actually have. But everyone likes it and walks around it: D It's great when the dissertation thesis has a realized output available to everyone 🙂

The little one is playing between them with toy cars
We have had DOTS at home for some months now and we are satisfied with them. At first I conciously stepped on them, but now seldom. Rather, I will just go through them unknowingly. But since they are located in a central place and can not be bypassed, just jumped over, they are actually still being trampled on. And that's what this is about. The visitors are immediately stopped by what we have on the floor: D the little one is playing between them with toy cars, so another plus. The only downside for me is that the vacuum cleaning is more difficult.
barefu DOTS are in the focus for each visitor
Our barefu DOTS are in the focus of each visitor 🙂 Our children walk around them all the time there and back, because we placed them in the shape of a pahtwalk along the couch, where children are mostly walking. and where our younger one also stays a lot, since she has only now learned to walk on her own. But we have a lot of places where we could still put them in the apartment, so we are going for the next DOTS: D Great and beautiful work …
Vacuuming, washing are done without problems
Evit is into barefoot conscious walking. She would be able to speak for hours how it differs from that classic unconscious gait, when the brain is "disconnected" from the legs. The result of this whole research are the wooden DOTS domes, tactiles, tenji blocks, which you can simply stick on your floor at home. They change the unnaturally flat surface and your feet can respond to stimuli. DOTS are maintenance-free, the advantage is also the design 🙂 I glued them into another shape, it was easy and they hold firmly even after re-gluing. Vacuuming, washing are done without problems They are also praised by children who come to visit us. Adults go after them out of curiosity at first, but they quickly find out what are the benefits of this pleasant massage 🙂 DOTS are packed in a practical bag, which also contains spare stickers and super detailed instructions! I really appreciate it because I am a person full of questions 😀 DOTS very quickly and unobtrusively became a part of our household 🙂 If I could, I would also throw here photos of legs stomping on DOTS 🙂

everyone who comes to us is excited
Dear barefu, you're awesome! And so much so that everyone who comes to us is excited … Mostly people perceive them as massage spots. It also works from the point of view of acupressure, as my masseuse friend willingly taught me 🙂 ❤ … Well; At first I was afraid of washing the floor and also of the reaction of my husband, who can't stand barfoot shoes, but then I forgot on others opinions 🙂 and stuck the DOTS right in the hallway on the busiest part of the apartment and waited .. my son was excited about them, my husband was interested and satisfied with the foot massage .. and actually everyone passing by was so enthusiastic about either the functionality or the design. The DOTS hold well, no change in color. Maintenance is zero, we wash the floor wet, we have linoleum and I have no special treatment for wood. Thank you for your good work. Brilliant things are the easiest 🙂 and a dot!

Do you want to stay in the picture?